Hybrid Events: Ensuring the Best Experience for Remote and Local Conference Participants
Posted by Nick Yeandle, published 2nd November 2021
What is a Hybrid Conference?
To put it simply, a hybrid conference is just a mix between an in-person event and a virtual seminar. Everything that you would usually expect to find at a fully in-person conference will still be exactly the same, but additionally there will be a virtual element to the event, provided through a video conferencing platform such as Microsoft Teams, Webex or Zoom. The technology must provide a seamless two-way communication channel between the remote and local audience, and for the event to be considered successful, it is crucial for the virtual delegates to receive the same experience as the in-person delegates and to be able to interact and participate in the discussions just the same as they would if they had been there in person.
This article looks at the main points that need to be considered to ensure the optimum experience for all delegates, whether they are attending in person, or joining the proceedings through their computer screen.
Choosing the Best Platform for the Hybrid Element
There are a number of different video conferencing platforms on the market that all have their pros and cons (see: Video Conferencing Platforms – The Pros and Cons of the Major Players), but choosing the right platform for a successful hybrid conference really just comes down to using what you are familiar with. There are a few reasons why we would choose some over others, for example Zoom can provide a great way to control remote particpants, with many easy-to-use features that make administering the video call a lot simpler. That said, if you already work primarily with Microsoft Teams in your organisation, there is no reason not to use it as the platform for your hybrid events.
Make sure Everyone can be Seen and Heard Clearly
Use more than One Camera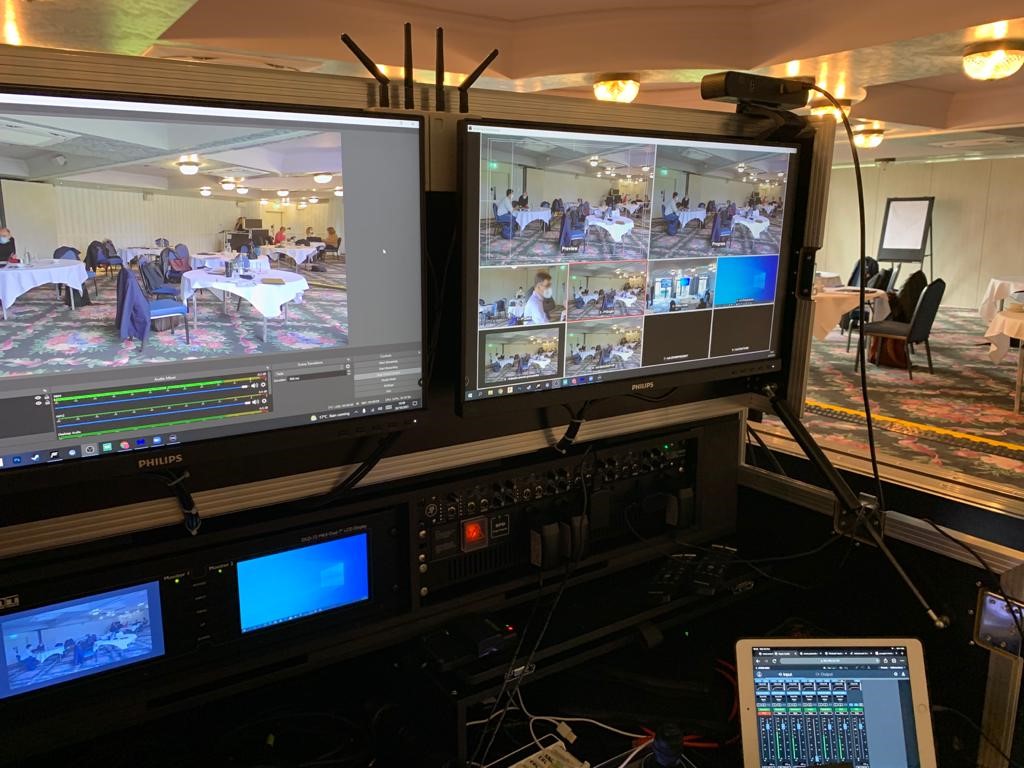 To ensure that the remote participants can see everyone clearly from within the in-person audience, it is important to set up different camera angles effectively. If there will be in-person speakers, ensure that they have a camera focused on them at the podium/ lectern, looking from the back of the room. A second camera angle looking back at the room will be needed for any Q&A from a theatre style audience, and if there will be any boardroom style or caberet seating, even more cameras may be needed to pick up each table. Using a Pan, Tilt Zoom camera with a controller can make life a lot easier for the video technician to pick up who is speaking quickly. To switch between camera angles we recommend using video mixing software such as OBS. Software will provide a "Virtual Camera" feed that can then be selected in the conference call where you would normally select your webcam. This will let the remote participants see a combination of camera angles that will be chosen and switched between, depending on who is talking.
We recommend sending the main presentation feed through the video mixing software, so that it is received by the VC software as part of the virtual camera, rather than as a screen share - this way the feed can also be sent locally to a presentation screen as well as to the remote participants, and the remote participants will be able to have a separate view to the local participants. Picture-in-Picture can be used to overlay the presenter's video feed on top of the presentation, which can be sent to the remote participants, whereas the local participants would just see the presentation and not the video feed of the presenter (since they are already in the room). By using an input to the system from a separate laptop, the presentation can be run locally by the presenter from the podium. Make sure to design the presentation slides with this in mind to ensure that the presenter video feed can be placed within a small section or corner of the presentation. When presenters are presenting remotely, in order to achieve this same view for other remote participants, we recommend using remote desktop software to allow the presenters to run their presentation remotely, and will then use their video feed from their webcam to overlay onto the presentation using the picture-in-picture mode.
Use a Variety of High-Quality Microphones
Microphones come in many different varieties and it's essential that the correct microphones are used for the different elements of the hybrid conference. A gooseneck microphone is often the best option for local presenters, as this can be placed on the lectern / podium, and it will pick up anyone standing within a metre or two of the microphone, which is great if you have a number of different people speaking, as there is no need to change mics. Lapel mics are of course the other option for in-person speakers, and these are great for those presenters who like to get a bit animated, and who don't like to stand behind the podium at all times. For Q&A sessions, handheld wireless microphones are usually the most cost effective and best quality solution, but it's worth considering that you will need at least one dedicated person whose responsibility it is to hand round the mics to anyone who wishes to ask a question. Finally if the session will be run as a boardroom style layout, or cabaret style, then boundary mics are often the best solution. One boundary mic can be used to pick up audio from up to 6 people depending on how spread out they are. The downside to boundary mics however, is that they can't easily be used to amplify people using a PA system in the room. A handheld, lapel or gooseneck mic would be needed for this.
Displaying the Virtual Audience
We have talked already about improving the experience for remote participants, by using P-in-P to show video feeds on top of presentations, giving all the remote delegates a more personal experience, and the same applies the other way. We therefore recommend the use of a twin display system at the in-person conference, to allow the local participants to see the presentation on the main screen, and the remote participants (in grid view) on the secondary display.
Technical Support
Last but not least, we stress the importance of having an experienced technical team on hand to operate the hybrid systems, cameras and audio equipment. Don't foget also that during the start of the session and also particularly during any Q&A elements, it is essential to have someone dedicated to administering the video conference call, to watch out for those who wish to raise their hand to speak and to mute and unmute remote participants' microphones.
Hiring Equipment for Hybrid Events and Conferences
At AV Xpert, we provide professional hybrid conference services. Our friendly staff are here to help you every step of the way with planning and implementing your hybrid events. We can provide all of the required equipment for anything from a small busines gathering to an international conference, and our experienced technicians will run the systems on the day and support you with any other technical assistance that may be required. Our Portable Video Production & Hybrid Conferencing Station is the perfect solution for events where multiple cameras and microphones are required. This all-in-one portable workstation can be wheeled in to place in any venue and set up within no time. Please visit our Hybrid Conferencing Page for more details, or Contact Us today to speak to one of the team about your event.